Switches for 2005 Volkswagen Golf
Related Parts
Part # / Description
/ Price
Price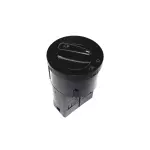 Stoplamp Switch
Golf, GTI, R32. With cruise control. Jetta. All. Touareg. Eos. Beetle. 4 prong.
Headlamp Dimmer Switch
Volkswagen Turn Signal Switch 8L0953513J01C The turn signal on your Volkswagen is there for both safety and legal reasons. You must signal before you turn or changes lanes to warn other drivers. Failure to do so puts you at risk for an accident or ge ...
Discontinued
Discontinued
Back Up Light Switch
Selector Rod Trans. Golf. 6 speed. Golf, GTI, R32. Manual trans. Without shift cable.
Clutch Starter Safety Switch
Jetta. From Chassis/VIN 9M-1-075 840. From Chassis/VIN 1C-412 515. From Chassis/VIN 1J-1-027 083. From Chassis/VIN 1J-1013-041.