No.
Part # / Description
/ Price
Price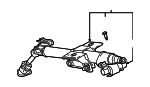 Steering Column
Beetle. Jetta. Golf, GTI. Coupe, auto trans. Sedan, auto trans. Without R32, auto trans. Convertible, auto trans.
Mount Bushing
Bushings
Beetle. Sedan. Coupe,. Golf, GTI, R32. Wagon. Convertible,.
Discontinued
Discontinued
Balance Weight
Balancer
Beetle. Without R32, with 4 spoke wheel. Convertible,. Coupe,. With 4 spoke wheel without radio controls.